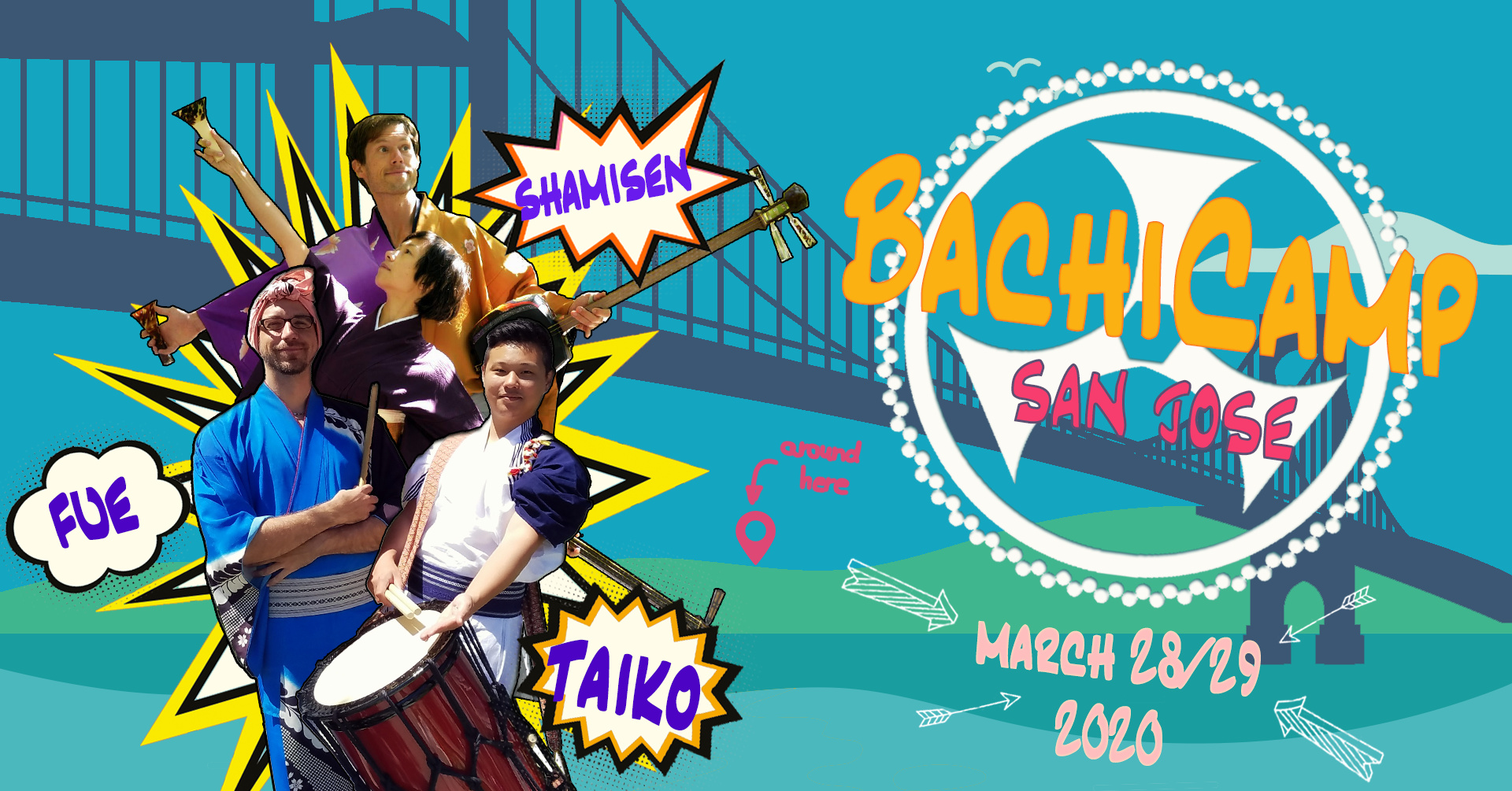 BachiCamp is finally coming to the Bay Area! After kicking off our workshop series in Seattle and St. Louis in late 2019, it's time to bring the charming mix of bangs, twangs and toots to Bachido's home turf!
Check out the official event page! - https://www.facebook.com/events/476970189610016/
What happens at BachiCamp?
At BachiCamp, Taiko, Shamisen and Fue players alike have the opportunity to jump into learning all three instruments!! If you're a taiko player who's never touched a shamisen before, and vice-versa for shamisen players? No problem! We will start from the basics! And with our team of experienced instructors, you'll also get your fair share of "aha"-moments on your instrument of expertise.
To provide a lasting learning experience, we divide each day into separate blocks that focus on different aspects of instrumental and musical refinery. Together, we build the skills to master the art of ensemble playing with fue, taiko and shamisen!
Saturday:
In our first block, everyone will learn the basics of a new instrument - taiko players learn the basics of shamisen and vice versa. The instructors will be with you every step of the way so you will be comfortable and confident when playing every note! Everyone will learn the basics while simultaneously learning a performance-level ensemble piece specially composed for BachiCamp.
In Block 2, it's time to switch things up! We will switch places and learn the ensemble piece with the instruments we're comfortable with. (I.e, Taiko players learn the rhythm part, shamisen players learn the melodic part) Basically, within the period of both Blocks, all participants will have experienced the rhythm and melody sections, giving everyone a full grasp of the ensemble piece. At last, we can jump into all roles of the orchestra!
In Block 3, it's time to focus on the melismatic fue melodies that dance on top of the shamisen/taiko-carpet and playfully accentuate and complement the melody. In this block, you also have the opportunity to spend more time with one of the previously experienced instruments and dive deeper into exploring its many charming features.
For those who don't have their own fue to bring yet, we will provide practice instruments and show you how to coax your first sounds out of the enchanting tooter!
In Block 4, all participants come together to play as the full ensemble! This is where the magic of group music-making happens. Everyone has the opportunity to play the ensemble piece with all three instruments (there is time to switch instruments to experience the ensemble from all roles!) and discover the amazing dynamics that comes from many instruments coming together. The instructors take on a conductor role and give constructive guidance to help participants increase their awareness of volume and rhythm (an essential skill for ensembles). As the individual rhythms and volumes balance and tune, you can feel the synergy between everyone grow, and the tight sound is amazing!
For the workshop, notation for the different instruments and skill levels is provided for all participants. At the end of the workshop, video material for each part and instrument will be provided, so you can review the new material back at home. We highly encourage participants to bring the ensemble piece back to their taiko group, develop it further and perform it publicly! Don't forget to tag us under @bachido and #bachicamp so we can follow and cheer you on on your journey!
Sunday:
Block 1: We'll begin our second workshop day with a review of the instrumental basics and the different parts of our group song.
Block 2: After the warmup/review session, we'll jump into some free focus with guided assistance, so everyone can work on their parts and instruments they're most interested in.
Block 3: Participants will break into smaller groups with mixed instruments to build ensemble experience in a more intimate setting.
Block 4: It's time for some magic! In our final block, everyone comes together to perform the group song in the big ensemble!
Your main takeaways (among many others!):
Learn at least 1 new instrument (basic technique and a complete song you can bring back to your group!)

Learn how to play in a new ensemble setting

Be an integral part in building the larger, interconnected community of Taiko, Shamisen and Fue simply by participating together as a happy ensemble!
Come join the fun at BachiCamp!
Kyle Abbott, Su Bunjamin, Joel Mankey, Arthur Mok
The BachiCamp Team