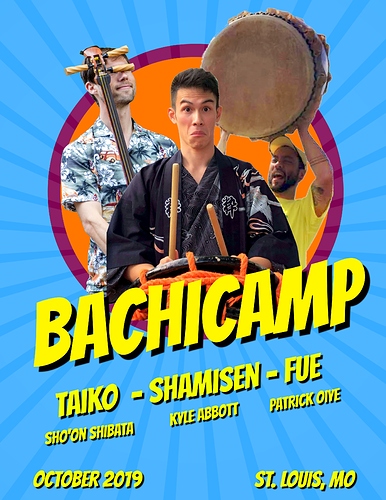 Hey folks! Just want to quickly say that while the writeup (below) for this workshop is aimed at taiko players, this workshop is equally aimed at Bachido members. My main goal in this workshop is to bring the taiko community and shamisen community together to encourage interaction and bonding between the two communities, inspiring further collaboration between local shamisen and taiko players. It would be awesome to have you part of this experience, so please come if you can!

I'll also be giving both basic and advanced shamisen instruction as well.
Official Writeup:
Taiko, Shinobue and Shamisen are all uniquely amazing instruments. What's more, Taiko and Shamisen share similar qualities of being skinned instruments that percussively strike the skin. Because of similarity, experienced taiko players who try shamisen for a short time are often able to get amazing tone! This shared quality combined with the shamisen's melodic abilities and taiko's deep resonance yields an enchanting sound as an ensemble.
However, these three instruments are rarely played together in North America. Fortunately, instructors Sho'on Shibata, Patrick Oiye, and Kyle Abbott are here to change the trend and unite the communities!
At BachiCamp, Taiko, Shamisen and Fue players alike have the opportunity to jump into learning all three instruments!! If you're a taiko player who's never touched a shamisen before, and vice-versa for shamisen players? No problem! We will start from the basics!
After learning the fundamentals of each instrument, everyone will study an artisinally crafted ensemble composition presented for the first time at this workshop. The composition in arranged so that all skill levels are able to fully participate and experience the ensemble experience. And because everyone will have a chance to learn the composition on each instrument, participants can switch instruments to experience the composition from every perspective.
Finally, this composition (and notation) is created for everyone to bring home with them. It is arranged as a performance piece, so we encourage all members to practice this piece with their group and perform it publicly!
A huge thanks to Joel Balestra and St. Louis Osuwa Taiko for generously allowing us to host BachiCamp in their facilities!
---
Essential Details: (To be updated)
When: October 12th/13th (will be confirmed soon)
Where: St. Louis, MO (At the Osuwa Taiko's facilities) - Address TBA
Cost: One-day $120 / Two-day $200
Instruments: Shamisen and Taiko (of varying sizes) will be provided, but please bring your own if you have one.