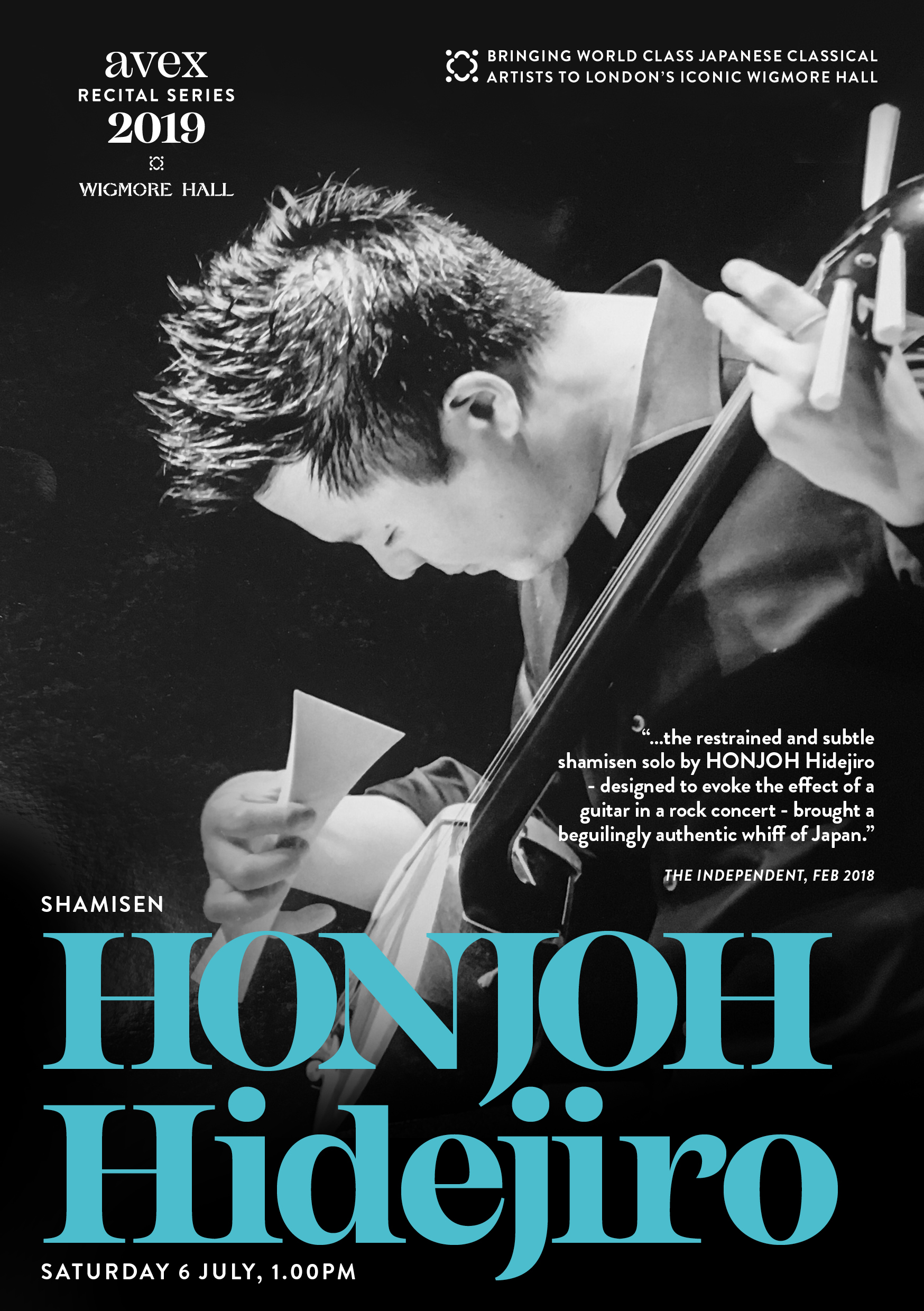 Following the continued successes of the Avex Recital Series at Wigmore Hall, this year's Series concludes with celebrated shamisen player HONJOH Hidejiro who is proudly welcomed back to London's renowned Wigmore Hall after blowing audiences away during his spectacular debut. With Hidejiro's utterly unique blend of visceral musicality and virtuosic technique, Hidejiro was the
first shamisen performer to receive the prestigious Idemitsu Music Award.
This concert will comprise an incredible programme of works that have been specifically written, or
newly adapted, for the shamisen. In addition to performing the world premiere of Ryuichi
Sakamoto's new composition, Hidejiro will perform Dai Fujikura's newly composed neo; a passage
which follows the classical style, it has also been crafted to induce an adrenaline rush in the listener
as the exhilarating melody relentlessly chases and looms upon them.
With a new and captivating approach, the lively repertoire continues with a kabuki-style piece in
Hamlet to be or not, combining Hamlet's Soliloquy with vocals and an exaggerated recitation. The
music follows the style of gidayubushi and the traditional puppet theatre music, often used in
popular dramas. Initially written to be performed in Japanese, Hidejiro has chosen to chant and sing
the original English script.
Showcasing the global appeal of the shamisen, Hidejiro will perform Jiva – a rhythmic and ethnic
piece reminiscent of Indian music. With its geometric allure, it fuses the acoustic function of
"Sawari" with "Javari" which refers to the power of sound encompassing a force of life. With
Hekitan No.2, audiences are urged to use their imaginations and to picture a scene that is held dear
inside your heart, perhaps a Japanese garden, or a landscape painting.
HONJOH Hidejiro comments, The significance of music as an expression of the moment requires
that it adapts flexibly to a multitude of different scenes and people, but to make this possible an
unparalleled musical talent is crucial. The shamisen had been a unique and global presence for the
people since as far back as the Edo era, and has a history of assimilating its surroundings and
cultures with a flexible and accepting attitude. In these rapidly changing times when artists are
constantly transcending linguistic boundaries with the medium of expression, I felt inspired to test
how much of Hamlet's inner conflict I could convey through a candid musical performance of
shamisen and chants. It's exciting to perform new compositions and work closely composers, such
as Dai Fujikura who is unique; I have never met anyone so enigmatic and modest despite his
brilliance. Do not miss the cutting-edge music of the Japanese traditional instrument!
Commenting on his adaptation of the well-known piece, neo, renowned composer Dai Fujikura
says, Until now, I have never written for the shamisen. My attraction to the shamisen was the
concept of adding 'noise' to the sound, which is unthinkable in western classical music. I loved it. I
immediately thought of it as a bit like distortion with an electric guitar, so I treated this piece like a
guitar solo in a rock concert. I hope you are cheering and screaming when he finishes this piece, like
you would in a rock concert.