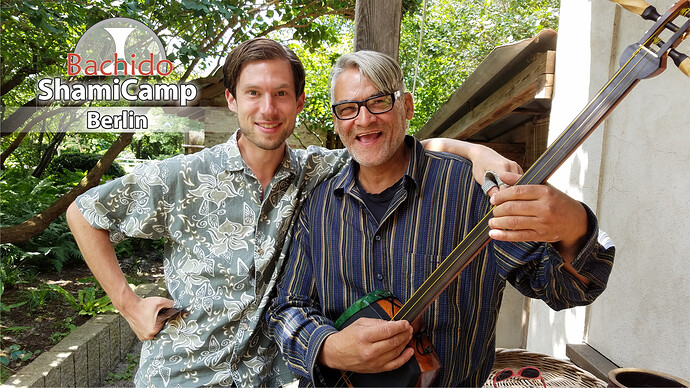 Missed out on ShamiCamp: Sapporo? Now, you have another chance to learn all the songs taught at that workshop. This time, you can do so with all your friends in the idyllic Japanese gardens of Roji Gardens right at the gates of Berlin!!
In this two day camp, we will drive to the gardens, learn all the charming ensemble pieces composed for ShamiCamp: Sapporo, and most importantly, jam with your fellow Bachido / Shamisen Berlin e.V members!
When: August 24th and 25th (10am-6pm)
Attendance fee: 75 Euro / day.
Please contact Bachido (store (at) bachido (dot) com) or Shamisen Berlin e.V. (info (at) shamisen-berlin (dot) de) to purchase tickets.
Payment options: PayPal, Credit Card (via Paypal)
Upon successful registration, you'll receive an invitation link to the closed ShamiCamp Berlin Facebook Group to support everyone's travel organisation.
Where: ROJI Japanese Gardens
Transit: Because ROJI Japanese Gardens is about an hour away from the city, we will rent a bus to carry us to ROJI Gardens (fee is included in ticket price). We will all meet at a central station in Berlin in the morning of the 24th, and the bus will return us to the city on the evening of the 25th. You'll get all the details on time and location in your confirmation mail.
Lodging: We have reserved double rooms at a nearby hotel and apartments for participants (fee is included in ticket price). Also, there is three spaces for camping at ROJI Gardens. If you are interested in camping, please let us know as soon as you can.

Below are the hotels/apartments reserved for ShamiCamp. Please let us know if you have a preferred lodging and we will reserve the space for you if available! Please note that there will be two persons per room. Please let us know if you wish to have a fully private room, as we may request extra fee to cover the cost.
Parkhotel Neustadt (Hotel)

Internat Schloß Spiegelberg (Hotel)

Gästeappartment Pferdehof (Apartment)
Food: The peaceful garden is secluded (think of this ShamiCamp as a summer retreat), and so we will bring and cook our own food. Plan to bring enough food for a dinner (24th), a breakfast* (25th) and two lunches (both days) with plenty of snacks. We will provide non-alcoholic beverages to keep everyone hydrated to ensure maximal receptivity for the ShamiCamp experience! We can coordinate to shop and prepare food together beforehand, in case you have a tight schedule upon arrival.
Group meal: We're planning to have a potluck for dinner on the 24th, so if you are able to bring anything to share, please do so!

Instructional material: We will teach the same songs from ShamiCamp: Sapporo, and ensemble booklets will be provided for everyone. (MP3 resources will also be provided three weeks before the camp begins) During this time, there will also be technique refinement training.
Also, there will be plenty of time for group composition challenges/games, as well as free jamming, improvisation and Show&Tell!
*) breakfast can be booked at the hotel for 8 Euro per person.
Our highest gratitude to our hosts Reiner and Gesine Jochems, who own and care for the beautiful Roji Gardens.
See you there!
Kyle Abbott (Bachido) & Su Bunjamin (Shamisen Berlin e.V)