Hi Everyone,
this is my first post on this forum so sorry if I ask stupid questions.
I moved to Japan two months ago (not the best timing…) and I live in Fujiyoshida, Yamanashi.
Someone gave me a shamisen last week and I have no knowledge about shamisen appart from listening to some japanese music back in the days when I was studying the language in college and the fact that I understand more or less how it should be played because I'm a guitarist.
So I have a couple questions related to the instrument I have received and the potentials repairs needed.
I understand that there are several different kind of shamisen, can anyone tell me which one this one is from the pictures below?
I'd like to repair this instrument and to start learning how to play it, I can see the skin needs to be replaced on both sides but is there anything else that looks like it need replacement? I have the bridge in a separate pocket, it's made of what seems like a bamboo base and bone top.
It looks like getting the skin replaced is pretty expensive, but synthetic skins are cheaper and more durable. Considering that I'm a complete beginner I guess I won't miss the warm tone of a classic animal skin. Is there a place you guys know and can recommend to get the skin replaced? Ideally in the Yamanashi region and alternatively in Tokyo. I'd like to find an affordable but reputable place that stocks good quality synthetic skins.
I know I can always send the body of my shamisen to Bachido in the US to get that Hibiki skin installed, which sounds like a great product. But considering the fact that I now live in Japan it sounds a bit ridiculous to send my shamisen to get repaired in the US, but maybe it is my best solution since Bachido look like a very serious business with a lot of experience.
Any pointers or help would be greatly appreciated,
thanks in advance for it!
I'm looking forward to enter the world of shamisen and hopefully learn how to play it!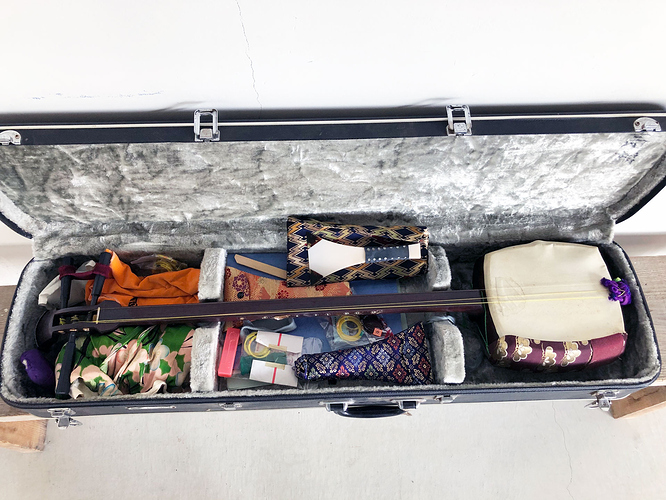 The rest of the images are in this google drive, let me know if I should take more