Komadori Shimai. Associated with Shamisen…1960s Tokyo Olympics and Soron Boshi My grandmother and Uncle kept an one of their LPs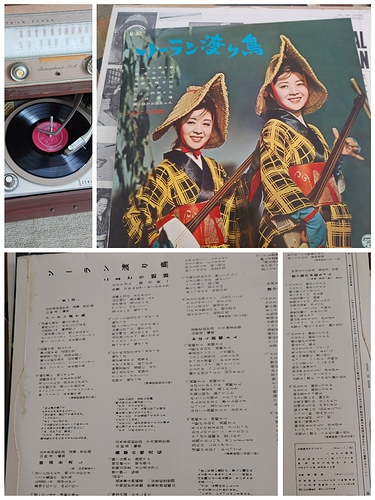 beautiful for sharing this to us. me being so very young, this awesome history.
Thank you for your kind comment.
Yes this was our parents and grandparents time… 20th century times that we learned from across a few ponds and continents. We had access and tuned into NHK channel stations but did not know the significence of those nostalgic glimpses.
Yoko Hiraoka of Colorado and Kyoto and some wonderful Nisei and Sansai fans did lots of this experience and research and opened up glimpses to me…along with Ten Ten and Kyle Abbot and Su Benjamin.
If you want to search for more, a friendly soul typed out the names in Japanese.
こまどり姉妹
そーラン渡り鳥
I looked them up online at the Far Side Radio British station archives but found more data independently and obtained an album by the sisters similar to my grandmothers from Record City in Japan…a fun vinyl discovery…for my grandparents joys…